Equine Supplements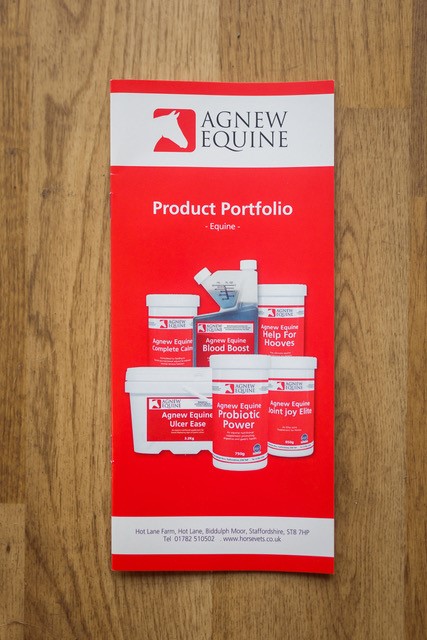 There are so many options of equine supplements out there, and it can be very confusing to figure out where to turn and who to trust. The market isn't well-regulated, so just about anyone can sell supplements and make bold and unrealistic (and sometimes illegal!) claims about products without any clinical evidence. In some cases, products have even been proven not to contain what is stated on the label. Add to that the Internet and social media full of people giving their opinions and the result is a confusing minefield for even the most informed horse owners.
With all this in mind, several years ago we decided that the best way to be sure of the supplements we were recommending was to create a range of our own. As vets, our confidence and practice is in evidence-based medicine, and we feel strongly that an evidence-based process needed to carry through to supplements as well. With our own range, some of which are manufactured specifically for us, you can be confident that the ingredients are proven to be effective, what is on the label is in the product, the supplements are good value and the quality is 100% guaranteed by a team who are already dedicated to the health and well-being of your horses and ponies.
At the end of the day, we know owners just want the best for their animals, and we want to help ensure you aren't spending well-earned money on products that only include small amounts of often benign ingredients that have little or no tangible effect on well-being. Also, the best indicator that we trust and believe in our range is that we use it for our own horses and ponies!
It is important to us that both you and your horse or pony are entirely satisfied with our supplements, therefore all of them come with a number of guarantees:
Palatability Guarantee – If your horse won't eat the supplement then you can return it to us for a full refund.
Analysis Guarantee – The ingredients are checked for quality and tested for contaminants on arrival at the plant. The production facilities have tight quality controls throughout and the finished product is tested for batch composition.
Traceability Guarantee – Each of the individual ingredients within the product are fully traceable and batch controlled.
Competition Safe Guarantee – All products are FFPS TESTED* which certifies that the product concerned has been tested in one of the world's premium independent, internationally trusted drug surveillance laboratories against the presence of Naturally Occurring Prohibited Substances.
*The FFPS TESTED symbol does not ensure a guarantee that the product is safe for feeding for all competitions in all countries and all disciplines, so we would recommend visiting www.ffps-accredited.com for full details of the program to check compliance.
---
Joint Joy
Agnew Equine Joint Joy is a daily feed supplement for the nutritional maintenance of healthy cartilage and joints. Joint Joy contains a very concentrated form of Glucosamine Hydrochloride – over 99% pure. Glucosamine HCL 99% pure is a non-toxic molecule which is essential in the production of cartilage, joint fluid, tendons and ligaments. This is an excellent supplement for maintaining healthy joints and cartilage and is therefore recommended for our older horses and horses that have problems with their joints.
---
Joint Joy Elite
We know performance horses are predisposed to increased wear and tear on their joints. This can lead to an imbalance between the production and breakdown of cartilage tissue. If the breakdown exceeds the production the cartilage tissue can become eroded, and this leads to serious problems like osteoarthritis, degenerative joint disease ad articular lesions. Our Joint Joy Elite supplement provides the components necessary for the nutritional maintenance of healthy cartilage matrix.
Available in two sizes, 850g and 400g, our Elite range contains Chrondrotion sulphate, Hyaluronic acid, Glucosamine HCL (99% pure), MSM (bioavailable sulphur) and Boswellia serrata (a herb believed to have anti-inflammatory properties) and is highly effective in veterinarian use. This combination of ingredients will enhance the levels of glycosaminoglycans (GAG's) which form the building blocks of cartilage matrix, and allow joints to withstand constant compression and concussion.
---
Complete Calm
We recommend using Complete Calm for horses and ponies on box rest, and to help overcome stressful events for example – moving to a new environment/yard, or a new owner or weaning/breaking, for fizzy/nervous/anxious horses. Complete Calm supplies complementary levels of L Tryptophan and Magnesium, and the live yeast Saccharomyces cerevisiae. L Tryptophan is a feed additive which is associated with serotonin production. Seratonin is the 'feel good' hormone which can have a calming effect. Feeding Magnesium to nervous horses helps to re-establish balanced Magnesium-Calcium levels. Our calmer can be used when competing as contains no prohibited ingredients.
---
Help for Hooves
Help for Hooves is a complementary feedstuff specially formulated for the practice, to provide all the essential nutrients necessary to protect and nourish every layer within the hoof horn. Help for Hooves contains essential minerals, amino acids and biotin to support the growth of healthy hooves and contains the highest concentrations of biotin in hoof supplements currently available (providing 37.5mg of Biotin per day) this can be OVER 50% MORE BIOTIN compared to other commercially available hoof supplements.
We are so confident in this product we offer a money back guarantee! After feeding this product consistently at the recommended dose for 150 days, if you are not satisfied with the quality of the new hoof growth Agnew Equine will arrange for a refund. Terms & Conditions apply.
We recommend feeding it for:
Chronic laminitis,
Cracked hooves, or
Dry, brittle feet incapable of holding shoes
To improve coat quality in cases of horses with scurfy poor coats
---
Ulcer Ease
Ulcer Ease is an equine nutritional supplement suitable for feeding to horses displaying Signs of Gastric Ulcers or for horses prone to gastric disturbances. The supplement will assist in maintaining optimum gastric health and function, and supplies a unique formulation of prebiotics, amino acids, seaweed extract and specific minerals necessary to aid in the recovery and maintenance of a healthy digestive tract. It is supplied in a convenient pelleted formulation.
---
Probiotic Power
This is an equine nutritional supplement promoting digestive and gastric health. It supports and optimises gut function and is commonly used in horses during and after antibiotic treatment, in horses suffering from diarrhoea as well at times of stress.
---
Liver Tonic
This supplement supports Liver function by helping to reduce the number of blood enzymes and increasing blood glucose levels for maximum performance. It contains Milk Thistle which is widely known for supporting liver function along with all the essential B-Vitamins 1,2,6 & 12 & Vitamin E.
---
Blood Boost
Competition horses need dietary supplementation of B complex vitamins and Iron, as these nutrients are needed for red blood cell formation and important metabolic functions relating to exercise. Agnew Equine Blood Boost will supply these nutrients to fortify and strengthen performance horses, which will ensure that their full athletic potential is expressed in competition.
It contains premium Iron Enriched B-complex vitamins and Cobalt in palatable syrup, which can be added to feeds. It has been specifically formulated for the practice and has no withdrawal times compared to some other tonics.
We recommend using for horses in the following situations:
After illness
During competition
During pregnancy
Anaemia identified on a blood sample
Appetite stimulant
---
Equitop® Myoplast
We all know how hard it can be to keep condition on horses as we enter the winter months – especially those with an increased protein requirement. Too many concentrates and oils, and they get fat and fizzy! This supplement is designed to maintain muscle function in horses, and is a great way to provide a high protein requirement without increasing feed.
The raw material of the product is derived from algae and provides a unique combination of 18 amino acids (including 8 essential amino acids) which horses require in their diet. Amino acids are the building blocks of protein; and protein is the building block of muscle and is scientifically designed to support lean muscle growth. It is beneficial for a range of different horses, and we recommend it for:
Young horses in training
For seasonal training e.g. event horses
For horses convalescing to maintain muscle mass
For horses post colic surgery
For older horses who have lost condition
Horses can be fed Equitop Myoplast for a short time or remain on it indefinitely if a good clinical response is seen. We are pleased to report an excellent response from a number of horses that have been prescribed it at our practice.
---
Bio-Sponge
Bio-Sponge® is an equine health supplement designed to help support healthy gastrointestinal function in foals and adult horses. This formula has substantial ca­pacity to adsorb toxins, viruses, bacteria and free radicals that can cause diarrhoea in the horse. Now administration of this highly effective intestinal support formula is easy with the release of Bio-Sponge® Paste in convenient individual dose syringes.
---
BozMerix
A neutraceutical to aid with the natural systems in the horse that control inflammation and assist in orthopaedic comfort, containing a high level of Micro-encapsulated Curcumin, Boswellia Serrata, Omega powder concentrates and ASU. Each 10g scoop or sachet contains the perfect blend of ingredients, making this powder formulation easy to use on a busy yard. Suitable for horses or ponies that are showing signs of stiffness, during periods or rehab, during intense training/competition or older in age.
---
For further information or to speak to a vet about which supplement best suits you – call us on 01782 510 502.