Catchment & Pricing
Catchment
At Agnew Equine we are proud to care for horses, ponies and donkeys throughout much of Staffordshire, Derbyshire and Cheshire from our base in Biddulph Moor.
The area we cover is shown in the map provided. If your property or yard is on the border of our coverage area and you would like to check or confirm with us – we recommend you contact us before registering your horse.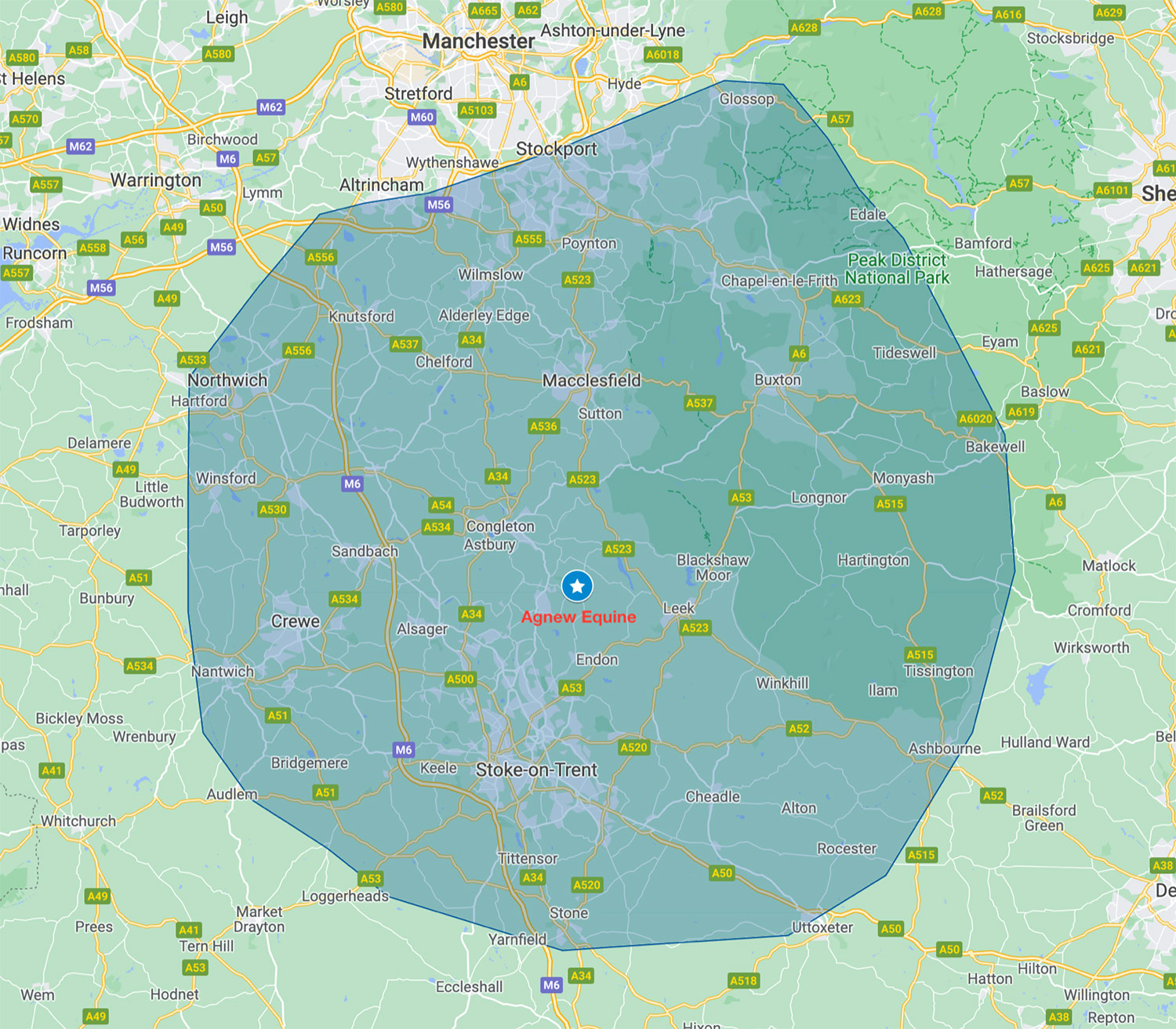 Pricing
At Agnew Equine, we are confident that our prices are competitive, honest and represent good value for the services provided - and we have made affordable preventative care a priority with our Saver Days. As a practice built on 20 years of trust, we are proud of our reputation for putting the horse and owner's best interest first – and we work hard to recognise how to offer the best value, and assess the most efficient way to approach a case with long-term costs in mind.
We always come to you - saving you transport costs and valuable time - and call out fees are based on your proximity to our practice base in Biddulph Moor. You will be notified of visit fees when booking, or you can check with us at any time.
Our fees are based on the service provided, the amount of time spent, medication supplied and materials used. We can always provide an estimate ahead of undertaking any work either via our team in the office or directly with a vet for more involved or complex cases.
Pricing for a selection of common/frequent requests are as follows:
Service
Price
Visit Fees (Depending on Location)
£30.00 - £66.00 inc. VAT
Flu/Tetanus Vaccination (Per Injection)
£35.00 inc. VAT
Routine Dental Work
£55.00 + inc. VAT
Microchipping
£30.00 inc. VAT
Standard Exam
£43.00 inc. VAT
5-stage Vetting
£289.00 inc. VAT
Emergency Working Hours Visit Fees
£44.00 - £107.00 inc. VAT
Emergency Out-of-Hours Visit Fees
£59.00 - £143.00 inc. VAT
Standing Castration (Sedation & Drugs Included)
Also includes FOC follow up visits for any concerns or complications
£245.00 inc. VAT
Saver Day charges (which include Visit Fees) on Tuesdays and Thursdays for Vaccinations, Dentals and/or General exams are £50.00 for 1 procedure, £85.00 for 2 procedures, or £95.00 for all 3 procedures!