Equine Worm Packs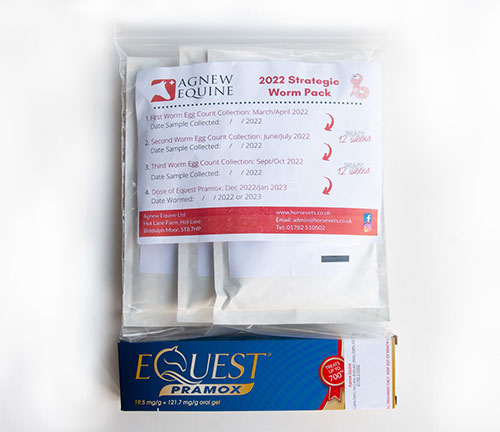 Our 2022 Strategic Worm Packs are ready to go!
Agnew has a Strategic Worming Plan that provides a full 12 months of protection. Included in our Worm Packs are 3 Worm Egg Count (WEC) kits – and we recommend the first sample is collected and submitted to us in March/April, the second sample in June/July and the third in Sept/Oct every year.
By taking periodic samples of your horse's poo, we can identify horses with high worm burdens that require strategic dosing. After testing we notify you of the results – either that your horse is ok or to let you know if their worm burden is high enough to be of risk and what the treatment plan is.
Tapeworms and Inhibited Small Red Worms cannot be accurately assessed by WEC – so to address this each pack contains targeted treatment of Equest Pramox against these worms to be given in late autumn/early winter.
If you horse shares a paddock with others, we recommend all horses have a worming program and do them at the same time. 80% of worms & parasites are in 20% of horses, so if there is one horse carrying a high worm burden and you treat them, the source of the worms is removed and will prevent spreading to others . We don't need to get rid of all worms, we just need them to stay below the levels that cause disease.
Our Worm Packs are not only effective, but also great value and also included is advice from our team and vets. Expert interpretation of results of Worm Egg Counts is important, as a low level of worms can actually be beneficial to the health of your horse. We have Internet-beating prices, and remember by doing WECs and with our guidance, you are only treating your horse if they need it, saving you money!
Please call the office on 01782 510 502 to order your Worm Packs or with any questions or email on office@horsevets.co.uk
This is a great worming system but remember it needs to be combined with good pasture management & 'poo picking'!