Independent and Proud!
16th September 2021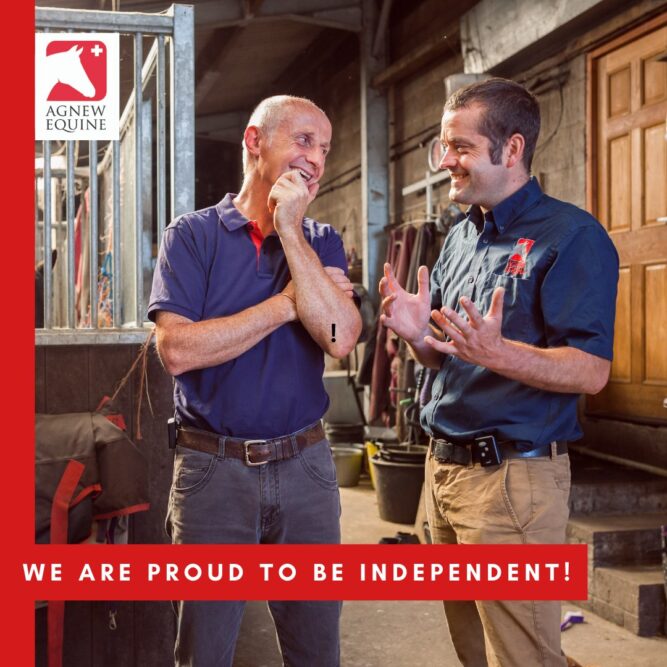 Agnew Equine, Proudly Independent! Since Arnie founded Agnew Equine in 2001 and Robin joined a few years later, a lot has changed in the veterinary industry. One major change in recent years is that large corporations are buying out local independent vet practices all over the country. It began with small animal surgeries, but it has well and truly seen a takeover now amongst equine practices. Sometimes announcements are made, but often the takeover is done quietly, the names remain the same on the door and only the small print is updated – but things do change behind the scenes.
At Agnew, we are proud to remain one of the only well-established independent equine practices in our area, and the decision to remain one has been deliberate. Arnie, Robin and Stuart still drive the decisions we make on behalf of our client's best interest and are able to mentor the vets we hire to deliver a service we know you deserve. There are no shareholders to answer to, no corporate office to justify our policies, choices or pricing. So we want to say thank you for being a part of our local, family-run business! 20 years on, we're proud to still be here when you need us.
Were you aware of the corporate takeover of the equine vet industry, or is this news to you? If you're interested in learning more, the main corporations in play across the country and in our area are CVS, Independent VetCare/IVC Evidencia, Medivet, Vet Partners, Linnaeus, Best Friends and The Vet Group (Vets4Pets/Pets at Home/Companion Care).